How to make acai bowl, Bliss Bowl, Tropical Bowl etc
Everything you need to know about making your own acai bowl from home! With four acai bowl recipes, products/ingredient suggestions (for the bowls AND the toppings), and all the best tips and tricks this is your one stop shop acai bowl read. Skip telling Siri to find an "acai bowl near me" and check out how easy (and how much cheaper) these bowls are to make from home!
Acai Bowl
My mom grew up in Brazil and returned there as an adult for a year and a half. While she talks often about fudgy brigadeiros, the best mangoes you'll ever eat, and the creamiest sweetest brazilian limeade, everyone in our family knows how she feels about acai. I still remember when acia flavorings, purees, and powders began to be introduced in the states — she was giddy for weeks. Her obsession has taught all of us just how to find the best acai bowls nearby and how to create even better ones at home. If you show up at my mom's home for a party, she's not setting out a dessert bar, she actually sets out an acai bowl bar — her standard base recipe with every topping you can dream of.Featured VideoPlay Video

A few FAQS about acai bowls:
What is acai? (pronounced ah-sigh-ee) The acai berry is a small (about an inch long) deep purple fruit. It comes from the acai palm tree, which is native to Central and South America.
What does acai taste like? Acai tastes like a combination of wild berries and chocolate
Is acai healthy for you? There are studies that show that acai fruit pulp is even richer in antioxidants than cranberries, raspberries, blackberries, strawberries, or blueberries. The average acai bowl is filled with antioxidants, vitamins, minerals, fiber, protein and healthy fats. Acai berries also have a pretty unique nutritional profile for a fruit — they are low in sugar and higher in healthy fats (which is why an acai bowl fills you up for much longer than a smoothie bowl).*
What are the benefits of acai bowls? An acai bowl is loaded with antioxidants, are suggested to improve cholesterol levels, have been implicated to have an anti-cancer effect, and have been linked with boosted brain function. Acai bowl benefits of course depend on what you've added in and topped your bowl with.
How many calories are in an acai bowl? It completely depends on what you put in your acai bowl! I include nutritional information below the first recipe, but it will vary depending on how much and what you top your bowls with. The great thing about making your own acai bowl is that know exactly what and how much of each ingredient is in what you're eating.
Are acai bowls good for weight loss? Not necessarily. While they're loaded with healthy ingredients, they are still high in sugar (fruit has a lot of sugar). Ultimately to lose weight, you need to control calories with a healthy lifestyle approach that includes a variety of nutritious foods, plenty of physical activity, and quality rest.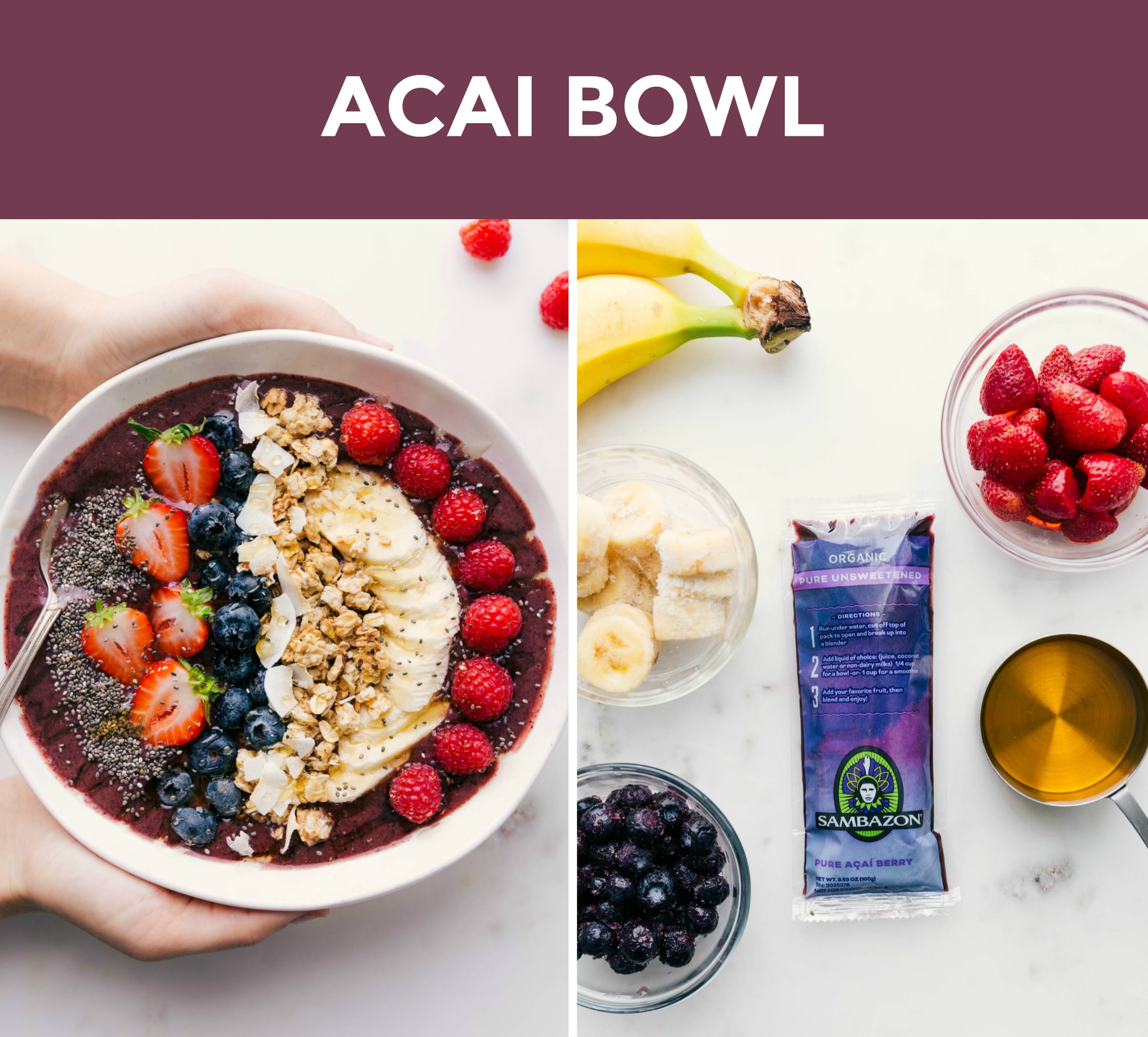 How do I make an acai bowl?
Acai bowls are truly as simple as blending a few ingredients together, pouring the mixture into a bowl, and adding your favorite toppings. They're really that easy! But here are a few tips:
Prepare ahead of time: for the actual acai bowl, everything needs to be frozen ahead of time (this is what gives the bowl it's signature thickness and allows for optimal topping!). The acai puree packs are purchased frozen as well as most of the fruit so that's easy! The one fruit that needs to be prepared ahead of time: the banana. Make sure to freeze your banana at least a few hours before making the acai bowl.

To freeze bananas: start with slightly overripe spotty bananas (you'll get much more flavor and sweetness), and then peel them. Slice the bananas into 1 inch chunks and arrange them in a single layer on parchment lined sheet pans. Place in the freezer. Once frozen, transfer to freezer-safe bags. Use as needed! (Frozen bananas last 3-4 months).

The consistency to acai bowls are key: The more frozen your ingredients are, the thicker your acai bowl will be. Avoid letting the fruit sit out of the freezer for long before making your bowl.
Where to buy acai for these bowls:
This acai bowl recipe uses sambazon pure unsweetened (organic) frozen acai berry packets. To make an acai bowl recipe with acai powder, substitute 1 tablespoon acai powder for the packet.4.43 from 7 votes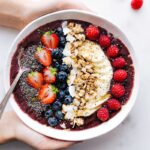 PrintAcai BowlPrep Time10 minsTotal Time10 mins
Everything you need to know about making your own acai bowl from home! This acai bowl recipe is the standard base recipe (find more variations below!)Course: BreakfastCuisine: AmericanKeyword: acai bowl, acai bowl recipe, how to make acai bowlServings: 2 -3 servings, depending on how many toppings you're loading the bowl with!Calories: 284 kcalAuthor: ChelseaIngredientsAdd to a high powered blender:
1 packet (100 grams) frozen acai berry packet
1/2 cup 100% apple juice from concentrate
1 small frozen banana
1/2 cup frozen strawberries
1/2 cup frozen blueberries
Top your bowl: (Below are my recommendations; add your favorite toppings and add to your desired quantity. These topping suggestions are for one acai bowl.)
1 tablespoon honey (if you don't add this on top, I recommend adding it to the mixture beforehand)
Handful vanilla almond granola, or a similar store bought/homemade granola
Fresh fruit: such as fresh strawberries, raspberries, blueberries, and banana: fruit sliced thinly or chopped
1 tablespoon chia seeds
1-2 tablespoons coconut
Get IngredientsPowered by ChicoryInstructions
Add the acai berry packet, apple juice, banana, strawberries, and blueberries to a high powered blender. Blend until smooth. Pour into a large bowl.
Top the bowl with as much (or as little) of your favorites such as granola, fresh (thinly sliced) fruit, chia seeds, and coconut! I recommend drizzling on about a tablespoon of honey over everything. Enjoy immediately.
Recipe Notes
To make this acai bowl recipe vegan, simply omit the honey and confirm the granola you're using is vegan!
Acai Bowl Calories: 284 calories for the base (this doesn't include toppings)
(Scroll down to see 3 additional acai bowl recipes)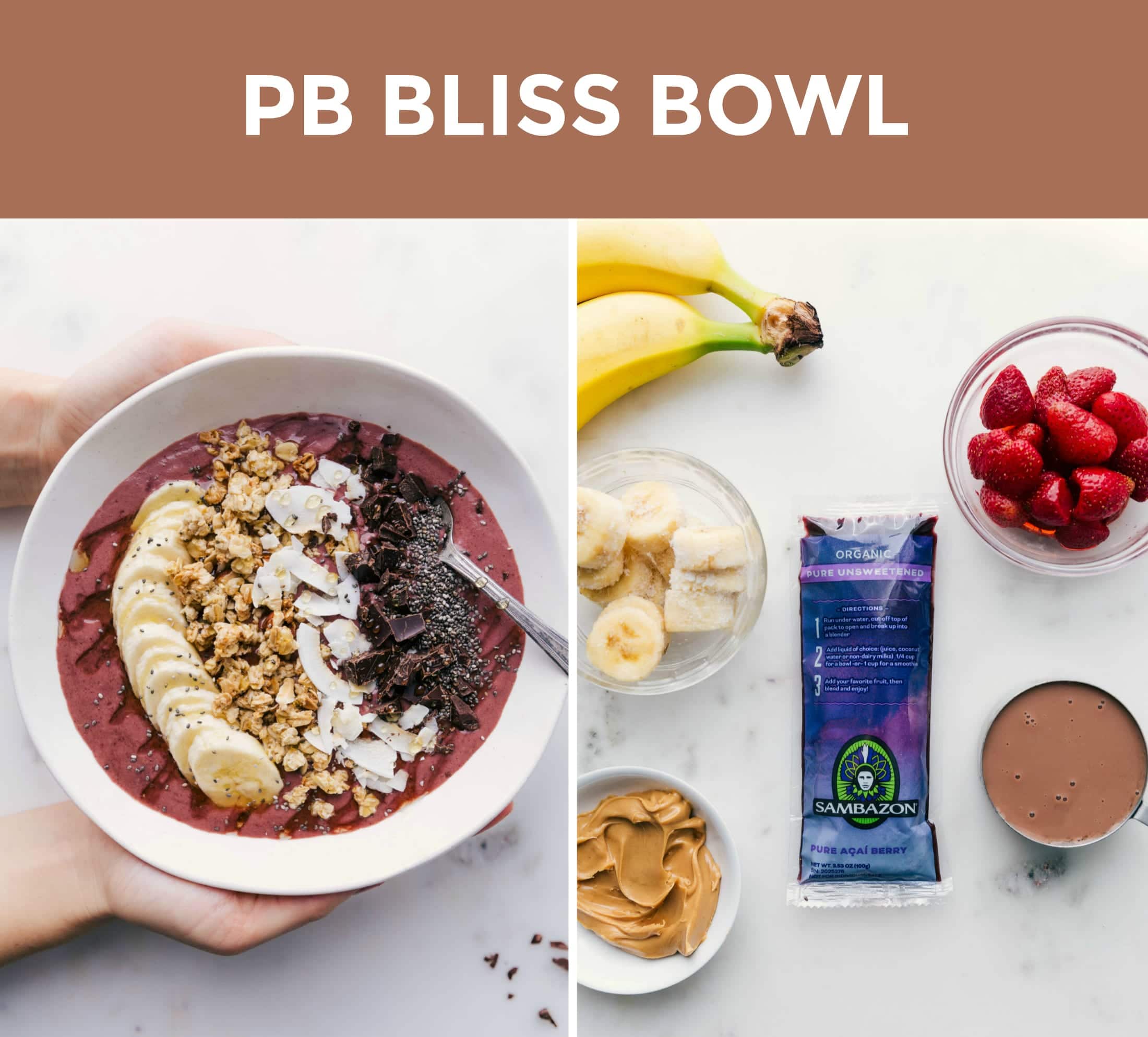 PEANUT BUTTER BLISS ACAI BOWL
serves 2-3 depending on how many toppings are added
ADD THE FOLLOWING TO A BLENDER:
1 package frozen acai berry packet, 100 grams
2 tablespoons peanut butter
1/2 cup chocolate almond milk
1 small frozen banana
1/2 cup frozen strawberries
TOP EACH BOWL WITH THE FOLLOWING: (Below are my recommendations; add your favorite toppings and add to your desired quantity. These topping suggestions are for one acai bowl.)
1 tablespoon honey (if you don't add this on top, I recommend adding it to the mixture beforehand)
Handful of vanilla almond granola, or a similar store bought/homemade granola
1/2 of 1 banana, very thinly sliced
1 tablespoon chia seeds
1 tablespoon chopped dark chocolate, or cacao nibs
1-2 tablespoons coconut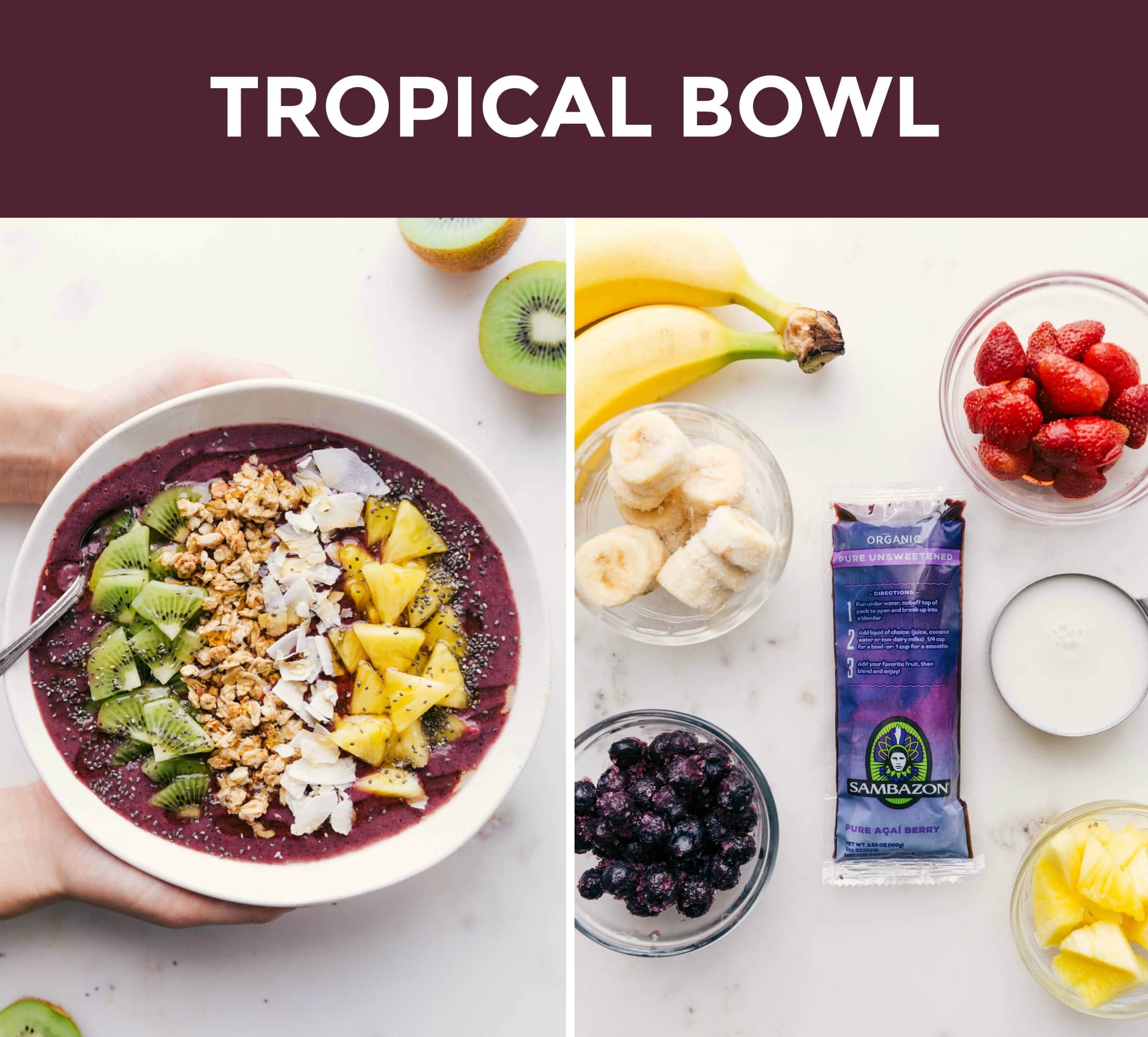 TROPICAL ACAI BOWL
serves 2-3 depending on how many toppings are added
ADD THE FOLLOWING TO A BLENDER:
1 package frozen acai berry packet, 100 grams
1/2 cup vanilla almond milk
1 small frozen banana
1/3 cup frozen strawberries
1/3 cup frozen pineapple
1/3 cup frozen blueberries
TOP EACH BOWL WITH THE FOLLOWING: (Below are my recommendations; add your favorite toppings and add to your desired quantity. These topping suggestions are for one acai bowl.)
1 tablespoon honey (if you don't add this on top, I recommend adding it to the mixture beforehand)
Handful of vanilla almond granola, or a similar store bought/homemade granola
1/2 of 1 kiwis, halved and very thinly sliced
Handful of fresh pineapple or mango, thinly sliced into small pieces
1 tablespoon chia seeds
1-2 tablespoons coconut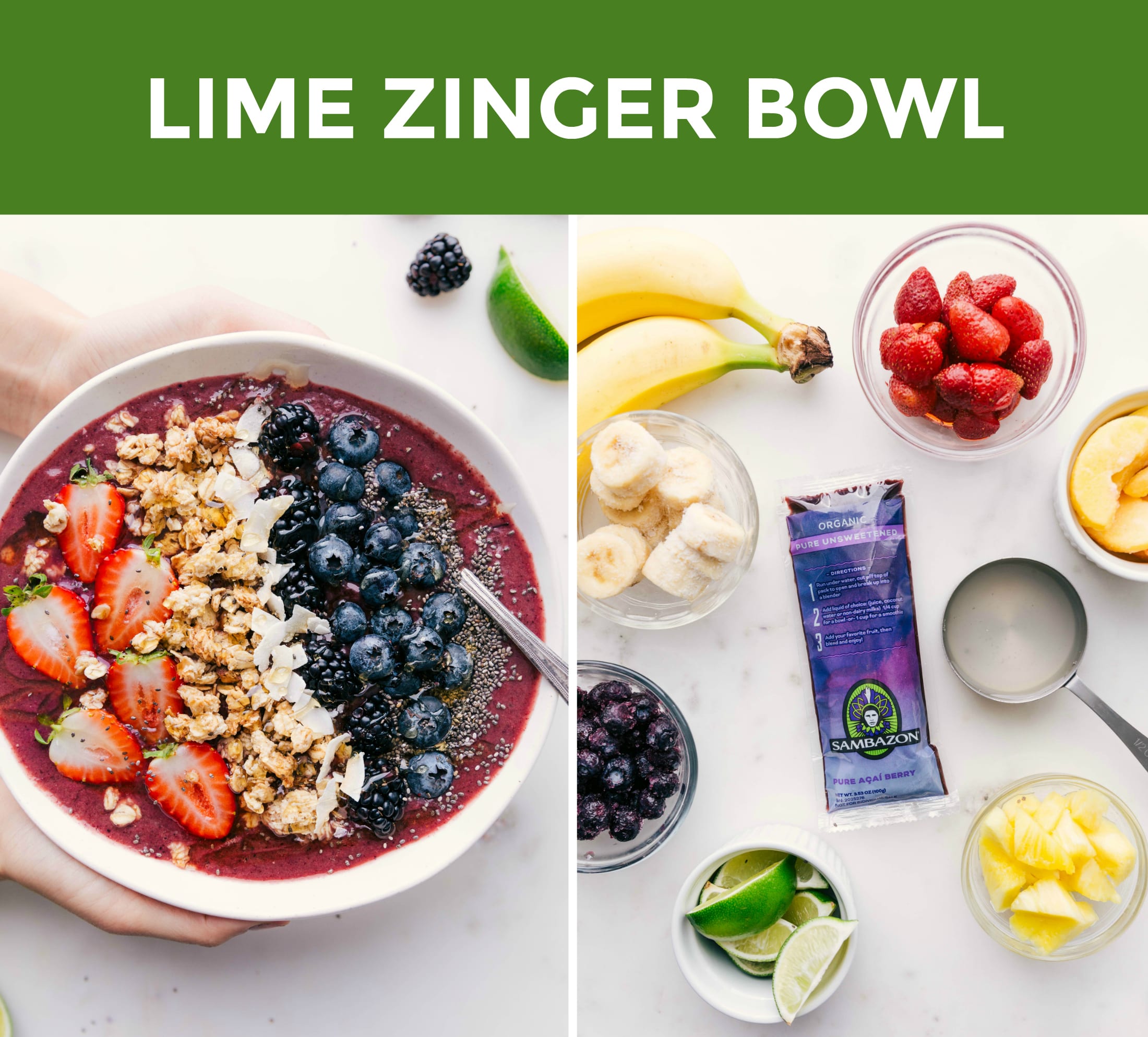 LIME ZINGER ACAI BOWL
serves 2-3 depending on how many toppings are added
ADD THE FOLLOWING TO A BLENDER:
1 package frozen acai berry packet, 100 grams
1 tablespoon fresh lime juice
1/2 cup coconut water
1 small frozen banana
1/3 cup frozen strawberries
1/3 cup frozen pineapple
1/3 cup frozen blueberries
1/3 cup frozen peaches
TOP EACH BOWL WITH THE FOLLOWING: (Below are my recommendations; add your favorite toppings and add to your desired quantity. These topping suggestions are for one acai bowl.)
1 tablespoon honey (if you don't add this on top, I recommend adding it to the mixture beforehand)
Handful of vanilla almond granola, or a similar store bought/homemade granola
Handful of strawberries, halved or thinly sliced
Handful of blackberries
Handful of blueberries
1-2 tablespoons coconut
1 tablespoon chia seeds

The EASIEST Acai Bowl Recipe:
serves 1-2 depending on how many toppings are added
ADD THE FOLLOWING TO A BLENDER:
1 cup frozen triple berry blend berries
1 tablespoon acai powder
1/2- 3/4 cup vanilla almond milk
1 small frozen banana
TOP EACH BOWL WITH THE FOLLOWING: (Below are my recommendations; add your favorite toppings and add to your desired quantity. These topping suggestions are for one acai bowl.)
1 tablespoon honey (if you don't add this on top, I recommend adding it to the mixture beforehand)
Handful of vanilla almond granola, or a similar store bought/homemade granola
Handful of fresh fruit
1-2 tablespoons coconut
1 tablespoon chia seeds

Vitamix, Blendtec, or other high powered blender
Acai puree packets (I love pure unsweetened by Sambazon; you can buy these at most health food stores)
Acai powder (buy online or in store)

When looking for puree packs or powder, make sure there aren't tons of added ingredients or sugars as that will make your acai bowl less of a healthy choice.

Instagram-worthy bowls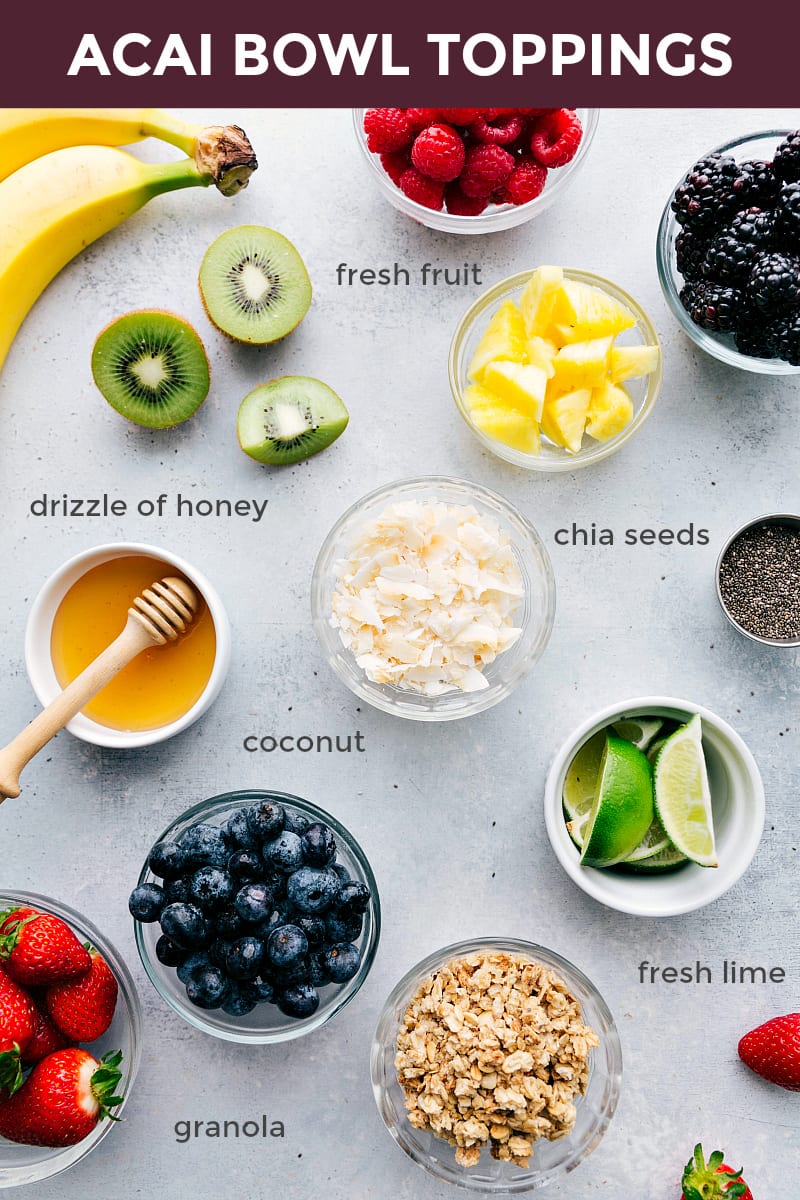 What to top your acai bowl with:
Honey (skip if vegan)
Vanilla almond granola, or your favorite homemade/store bought granola
Fresh fruit such as: strawberries, blackberries, blueberries, mango, banana, peaches, pineapple, kiwi, apple, etc.
Flaked coconut
Chia seeds
Cacao Nibs, or chopped dark chocolate or miniature chocolate chips
Hemp Seeds
Flaxseeds